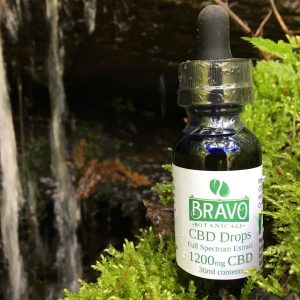 Q: What is CBD (Cannabidiol)?
A: CBD is a cannabinoid that occurs naturally in the cannabis plant. We have receptors in our cells that are designed to receive CBD – in both our central nervous system and our immune system.
Q: What does our endocannabinoid system (ECS) do?
A: Our endocannabinoid system is responsible for maintaining homeostasis, or balance, in the body. Our ECS monitors the activity of other neurotransmitters and helps to regulate their functions. CBD helps to promote a healthy endocannabinoid system.
Q: What can CBD help with?
A: CBD has been shown to help with inflammation, pain, anxiety, depression, insomnia, and epilepsy, for starters. There is also a general effect of wellness and relaxation that comes from using CBD. More scientific data and anecdotal accounts are becoming available all the time.
Q: What does "Full Spectrum" mean?
A: CBD is but one of the numerous beneficial cannabinoids present in hemp. Our oil contains all of the cannabinoids present in the hemp plant, of which CBD is the most prolific. We believe in the "entourage" effect that results from allowing the plant to express all of its cannabinoids.
Q: Will CBD oil get me "stoned"?
A: No. THC is the psychoactive compound in cannabis. Our CBD Drops contain less than 1 mg of THC per mL of oil while possessing 40 mg of CBD per mL of oil (see test results). CBD has been proven to counter the effects of THC, leaving no chance of having a psychoactive experience. Demand testing for any CBD products you use!
Q: How do I take your CBD?
A: Our Drops are meant to be taken sublingually (under the tongue), for the quickest and most thorough absorption into your vascular system. The Coconut Oil can be applied topically or added to food. The Shea Cream is for topical administration only. More information is on product labels.
Q: Is your hemp/CBD organic?
A: Yes! We were recently certified organic by Vermont Organic Farmers for our 2019 crop. All of our hemp used until this harvest has been organically grown as well and, in fact, we use regenerative agricultural practices – such as no-till – that are ecologically restorative.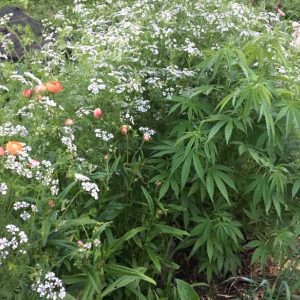 Q: Where is your hemp grown?
A: We grow our hemp in a couple locations in Guilford and we also source oil from our processor, if demand exceed our supply of what we have grown. All of the hemp/CBD used in our products is grown organically, extracted and processed in Vermont.
Q: How do you get the CBD out of the plant?
A: We prefer a method called subcritical and supercritical CO2 extraction, which we feel results in the cleanest, most potent, alcohol-solvent free CBD oil. This process takes place at a third-party laboratory under the most rigorous standards.
Q: What is MCT oil and why do you use it?
A: MCT stands for "medium-chain triglycerides" and is an odorless and tasteless oil derived from coconuts. MCTs are fatty acids which support brain health and are a healthy source of energy and also help the body burn fat. When the CBD is extracted from the hemp plant, it is extremely concentrated and needs to be diluted for ease of use. MCT is our carrier oil of choice.
Q: How do I store my CBD products?
A: All of our products should be kept in a cool, dark place and will remain stable for up to six months in this environment. No refrigeration is necessary. The coconut oil will liquify at temperatures over 75 degrees F.
Q: What makes Bravo CBD products different from others?
A: We put great effort into producing the highest quality CBD products at the most affordable prices so that this wonderful and important plant medicine is available to those who need it most.